Trainer: Terry McClendon, Chief trainer, nlp•australia – Contract Negotiating
INTRODUCTION
Negotiating is part of everyday life.
These contracts range from informal agreements between colleagues and friends to formal and binding contracts worth many millions of dollars.
Effective contract negotiation is a crucial part of any business. Contracts can be negotiated in relation to employment, suppliers, leases, licenses, franchises, sales, license, real estate or partnerships, among other circumstances.
When negotiating, both parties are there to make a deal that benefits them. You need sufficient knowledge and skills to get what you want.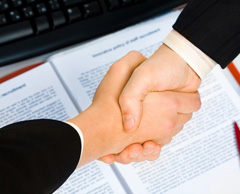 Effective contract negotiation is a crucial part of any business.
Are you skilled in..
Overcoming objections?
Recognizing the best communication style to use?
Influence communication?
Gaining rapport?
Getting to 'yes'?
WHY YOU CANNOT MISS THIS COURSE
This course will provide you with quality tools to equip you to negotiate Win-Win contracts.
In this comprehensive 2 day training program you will learn to:
Identity what you want out of a contract
Understand what you can reasonably expect to get
Determine what you are willing to give up
Understand the pitfalls of failing to recognize the other party's strengths and weaknesses
Have sufficient skill to overcome objections
Be able to learn as much as you can about the other party
Know how to close the deal.
This training course will be very interactive and practical. Participants will practice negotiating contracts in small groups throughout the 2 days. As you develop the content of the contracts you will be taught practical interpersonal communication skills to use at each stage of the contract negotiation. Additionally,
Each participant will go through the process of developing and negotiating his own contract around a subject of his/her choice.
Example scenarios will also be created within the training group.
You will also learn:
THE MEANING of gestures, voice tone and language in negotiating
HOW to BUILD rapport and trust with your negotiating partner
SKILLS to bypass resistance
INFLUENCING language
STRATEGIES to influence negotiations on the unconscious
CONGRUENT and ethical issues in negotiating contracts
TO ACHIEVE mutually beneficial results
TO DEVELOP skills to determine alternative negotiating strategies
TO IDENTIFY and use your own strong points
WHY the other party needs you
WHO SHOULD ATTEND
Executives, Managers or Individuals who want to improve their influencing and negotiating skills when
Negotiating external business contracts on behalf of your company
Negotiating workplace contracts.
Selling or buying real estate
Drawing up a partnership
Distributing assets within a partnership
Determining client leases
Licensing new partners or products
Resolving conflict regarding contract negotiation
Negotiating with others when designing and implementing work schedules, plans, projects
Executives, Managers or Individuals including:
Sales professionals
Contract managers
Project managers
Procurement and purchasing officers
HR Managers
..will improve their contract negotiating skills through attending this course.
Negotiating contracts are part of everyday life.

These contracts range from informal agreements between colleagues and friends to formal and binding contracts worth many millions of dollars.
THE PROGRAM INTRODUCTION
Overview and expected outcomes
CHARACTERISTICS OF A GOOD CONTRACT
What is a well-formed contract?
What skill set do you need to negotiate your contract?
KNOW WHAT YOUR GOALS ARE AND PREPARE TO EXECUTE THEM
What do you want?
What can you get?
What are you willing to give up?
Understand what is not in the agreement
At what point will you walk away?
MANAGE THE INFORMATION FLOW
Who can make the decision?
Are you speaking to the person who can make the decision?
How to ask quality questions
Give instructions only once
BUILD RAPPORT
Create trust with your negotiating partner
Create a relaxed atmosphere
Elicit high quality information
'READ' THE MEANING OF YOUR NEGOTIATING PARTNER'S NONVERBAL COMMUNICATION
Use your negotiating partners non verbal communication to build rapport
Answer questions and clarify hidden issues
Minimize confusion
USE YOUR NEGOTIATING PARTNER'S UNCONSCIOUS COMMUNICATION TO DEDUCE IF THEY ARE TELLING THE TRUTH
Test the integrity of your negotiating partner
Minimize confusion before it arises
Take control of the negotiation
INFLUENCE THE OUTCOME OF THE CONTRACT BY
Working with the metaphysical
Working with language
LEARN THE STRUCTURE OF SUGGESTION
Learn the language patterns of influence
Apply these patterns in the context of your contract negotiation
OVERCOME OBJECTIONS AND MAINTAIN THE FLOW OF COMMUNICATION
Use objections as opportunities
Learn the different forms of objections
Learn to connect objections with opportunities and deliver them back as resources
INFLUENCE OUTCOMES USING THE POWERFUL MMSS Personality Assessment Survey ™ TO DETERMINE IMPORTANT VALUES
Understand what motivates your negotiation partner
What is the best strategy to enable them to make their own decisions?
Is the negotiation important to them or others they represent?
Do they need detail or the big picture
How do they understand the contract in relationship to time?
What is the decision clincher for the other party?
DOCUMENTING NEGOTIATIONS: GET IT IN WRITING
The importance of good documentation
Leave the fine detail to the lawyers
ALWAYS BE NEGOTIATING
Look for opportunities to gather information even when not in a formal negotiating context
Always look for opportunities to close the negotiation
PUT YOUR LEARNING INTO CONTEXT
The course will include lectures, demonstrations, exercises as well as small group practices to both learn and use the skills in this course.
If you have attended a previous training by Terry McClendon (Effective Negotiations Strategies or Advanced Negotiations) , this course provides an excellent opportunity to review what you have learnt and build on that knowledge in the context of Contract Negotiations. This course will also delve deeper into some of the communications patterns such as 'Meta Programs' that were covered in the earlier courses.
Click here for our Registration and Refund Policy